WHAT'S NEXT?
Our Vision of the Future
It is the year 2025.  We are at a mine site in northern Nevada.  It is early morning as Todd puts on his hard hat, adjusts the transducers and fires up the shovel. This hardhat-headset helps boost Todd's frontal lobe activity so that his executive function, his brain's ability to handle complex and potentially dangerous mission critical environments is at an optimum. Amongst other things, Todd's hardhat-headset monitors his neurological arousal level in his deep brain reticular formation and, through a non-invasive qEEG and Evoked Potential Neurofeedback system, entrains his brain and keeps Todd in a highly enjoyable and productive Flow State.
Todd no longer goes to 'work'. He goes to 'fun'.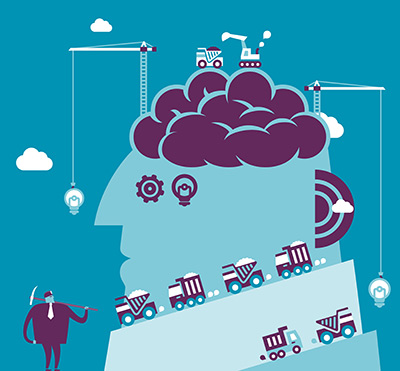 Todd is also part of a larger team.  Today Todd is participating in a real time experiment designed to reconceptualise a solution to a novel change in the mine's ore body.  Nature has thrown a curve ball at the operation.  Todd and his allies are going to rapidly rehearse a new way of mining these changes today. When his shift is over, Todd will be a different person. He will see the world differently. Todd loves and looks forward to this kind of on-the-job learning.  He can feel himself getting smarter and more valuable by the day.
Some of his allies are highly intelligent robots.  Some are distributed neural network systems capable of learning how to learn from their experience and learnings.
Todd works in a stimulating and complex environment. He is part of a larger hive mind which includes biological and non-biological intelligences, all focused on highly valuable non-negotiable business goals.
Todd is ten times more valuable than his equivalent peers way back in 2015, and ten times happier.  He loves his work.
This 'day in the life of Todd' sketch allows us to begin to imagineer a 'Big Picture' of what the best of the future can bring in the field of Applied Neuroplasticity, and how we can bring it about with our efforts.